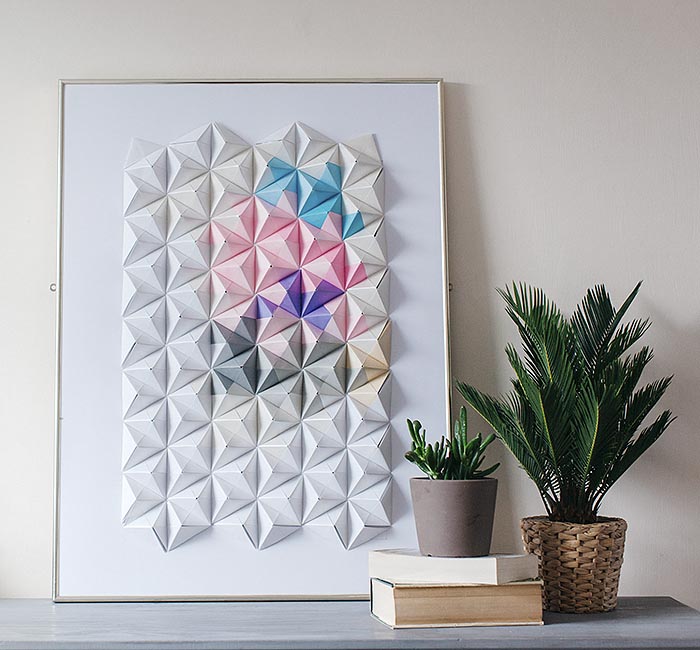 Hi there lovies! Hope that you've had a wonderful week. I've been enjoying this cool spring weather + mostly sun we've been having, soaking it all in while I can. I painted some, wrote a lot and made some progress on business plans and goals I've been dreaming of for so long. Being an entrepreneur is some weeks s-l-o-w and hard to see progress, so I'm forcing myself to celebrate small wins as I find them! This week - that was outlining an e-book I hope to share with you guys later this spring!
Today's scouts and shouts for creative living, to inspire you this weekend!
---
This read on creativity sums up EXACTLY how I feel about my work, especially this_ But I think the best kept secret of creative work, is that if you do it enough, your brain will start to crave it, so it no longer feels like work. For more good reads on creativity, don't miss our favorite books on the subject.
Absolutely adore this DIY origami wall display. Might be a good summer project with my girl.
I love this article on how to be a better listener. Something I'm working on as a mom, a friend, as a human.
What procrastination is REALLY about.
Some great weekend sales happening at Madewell, J. Crew and Anthropologie home. A few things I'm eyeing_ this top, these pants, this swimsuit in red, and if I were splurging this amazing art.
And also. Interiors of color to crush on and 10 ways to ramp up your creativity this month.
Happy weekend my friends!
Image via 1