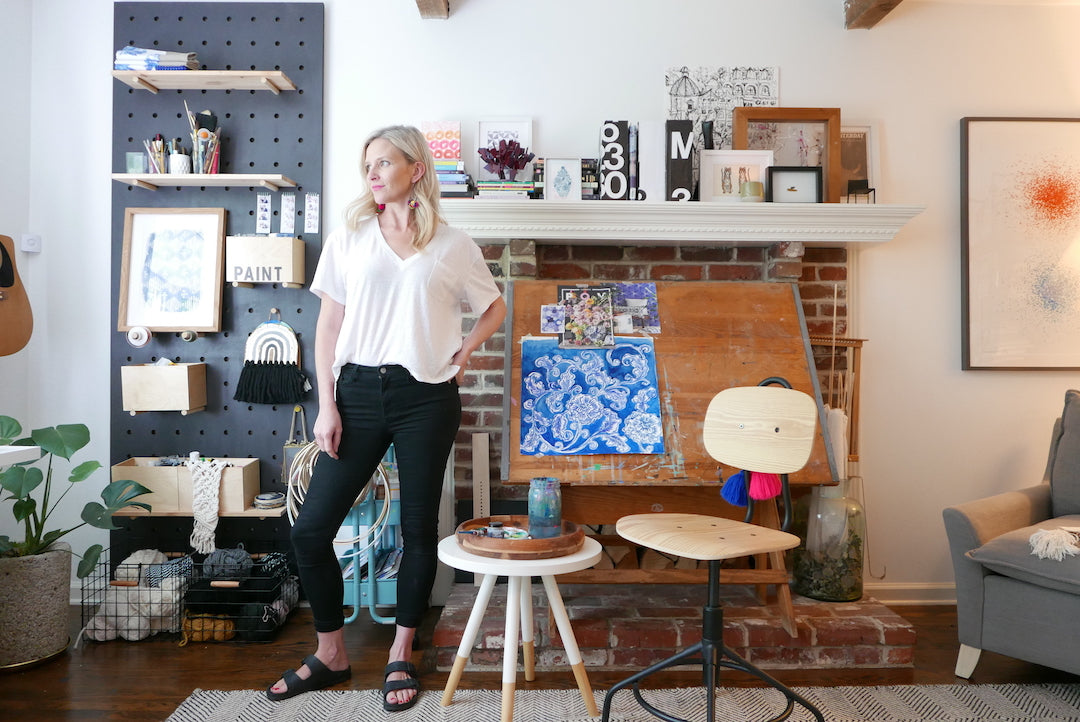 Happy June folks! I can't believe the year is flying by! Today, I'm so excited to share with you a sneak peek into the work and studio of a dear friend, Jessica LoPresto. Jess is a talented artist, textile designer, momma, builder, dreamer and friend. She is a designer by day, and an artist by night - always tackling new mediums and projects as she learns and grows. I am in AWE of everything she does, and someday aspire to need as little sleep she does to fit it all in. Read her story, where she finds her inspiration and how she keeps creativity accessible at all times below.
Tell us a bit about yourself. Hi, I'm Jessica LoPresto - I have been painting, making, and creating my whole life. Growing up, in Mississippi, I was never held back from following a creative spark - a new bedroom color with each passing mood, painting tree frogs on my wall, having an art show to pay for a ticket to Paris. I always found encouragement and support from family and friends who pushed me to keep exploring my ideas. My grandmother is a crafter at heart and I learned all my best tricks from her - if the front looks good don't worry about the mess in the back. With that being said, I am not a perfectionist or even an expert. I love to follow a whim, try new things and if I make a mistake it's nothing another layer of paint can't cover up.

I knew as early as 9th grade that I wanted to follow my passion for art into a career. I had some unexplained insight that going into fine arts as a job might take away the joy I got from unstructured creativity. I wanted to find something in the design world that included more than painting. Enter the discovery of textile design. I did my college research through high school based on this very niche career and that is how I ended up 1000 miles from home in Philadelphia, PA. I got my Bachelors of Science in Textile Design and a Masters in Print Design from Philadelphia University. I have worked in the industry for almost 15 years (whoa) in Philadelphia, NYC, Dallas, and now I'm back in PA at Lilly Pulitzer.

Although I may not paint all day (I do paint a lot) I get to be creative in so many different ways. While I thought that would burn me out it has done the opposite. The more creative I am at work the more I want to channel that energy into my own work at home. The sliver of time I am able find between working full-time and doing my best to raise two good and decent humans with my husband is very limited but so rewarding.
What is your FIRST memory of being creative? It's a funny memory but in elementary school we often had coloring contests. The time I remember, each kid got a page with the outline of school bus to color in and they were then all hung up at the mall. When I colored mine I added children and a bus driver and that extra bit of "creativity" got me the blue ribbon. It was an incredible validation to a small kid for thinking outside of the box.
When did you find your way back to creativity? Creativity has always been a part of who I am. The way it presents itself changes along with me and where I am in life. When I started back in textile design at Lilly a few years ago I realized I needed to get back into the groove of painting. I set a goal to create something everyday to loosen up my hand. I think the practice of drawing, painting or getting out a quick sketch before going to sleep each day ignited something in me and the ideas started flowing. The more I made the more I wanted to make. I now sometimes get a little twitchy if I travel without a sketchbook and have nowhere to get an idea down!
What's your creative practice look like on an average day? I'm a little sporadic with my creative surges. On a typical day, when I'm in the middle of a project, I usually spend the weeknights in my home studio after the kids go to bed. I usually work until I can't keep my eyes open. When inspired I get annoyed that I have to waste my time sleeping instead of working through ALL my ideas. So, it's a good thing I work in surges because I need the sleep!
Where do you find your inspiration? I can be inspired by almost anything but I often find myself creating things that I want myself but can't find. Before the holidays last year I reinterpreted different textile techniques on to paper and wood which I then turned into prints and ornaments. During a trip home to Mississippi in December as I reminisced about all my favorite places from growing up I started painting them. When I got back home I continued the project and created a toile that I made into prints and fabric. I also like to find new uses for items I already have so sometimes the inspiration comes from the materials themselves.
Tell us a bit about your space and your tools. I think I have had some type of set up in every room in our house that I called my own. I would take over a corner and make my messes for a few months until I found a better spot and moved everything around again. I am finally settling in to where I think I'll stay put for a while. The office in our home was where my husband worked from home for while but when he started going into an office regularly I decided it was time for it to become "our office" aka my studio space. I took over the half of the room that has a big window overlooking the front yard. I get the nicest light when I actually find time to myself during the daylight hours! Sometimes my daughter sets up desk near me and we draw and paint together. I recently added better storage, rearranged, and organized which has me excited to dig in to new projects.

My favorite tools are honestly the most accessible ones. My sketchbook is falling to pieces and the paper quality is nothing special but it takes all the intimidation away when sketching out ideas. I have a set of craft brushes that were super cheap because I often use a frisket that ruins the bristles. I have gauche tubes left over from college and tubes of acrylic that I've used on walls as well as canvases. I've created things with sticks from my yard. I'm a low maintenance artist!
As a mom, how do you cultivate a sense of creativity + curiosity in your children. My kids love art. They love to paint and draw and create. No matter what I am working on_ wooden rainbows, ornaments, wedding invitations, my daughter makes her own version which is the sweetest form of admiration.
I would say the best advice for inspiring creativity is to always make it available. If the kids want to paint, the answer is always yes. There is a drawer in our kitchen full of supplies that they can get on their own while we are making dinner. I will throw down a blanket or cardboard and let them go at larger projects on the floor. I try to stay out of their way because their imagination works so much harder if I'm not leading the way. I help and encourage but try not to direct.
What advice would you give to anyone starting their own creative journey? Try everything and learn as much as possible. I love to have a large toolbox of skills to pull from. I continue to take classes to learn new techniques as often as possible.
Rapid Fire Round.

Being creative means_ everything. I have been creative my whole life in some way or another. I honestly can't imagine a life without creativity in it. 

My creative habit brings me: joy, frustration and accomplishment.

My advice to anyone looking to push themselves into a creative life_ just get started. It's never perfect in the beginning but the process is often better than the final product. Enjoy each step!

Favorite book: I can't play favorites with books, I love getting lost in a story. I am so thankful for Audible for bringing books back to my busy life where I never get a chance to sit down and actually read with my eyes.

Favorite cocktail_ Old Fashioned but it's almost Rose' season...
Thanks Jessica for sharing your work + your words with us! I hope that you are as inspired by her journey, and her passion as I am.
You can see more of Jessica's work in her Etsy shop, on Instagram and Facebook.
If you or someone you know is a creative and would like to be featured here, drop us a note, we'd love to connect_ info@thecolorkind.com.