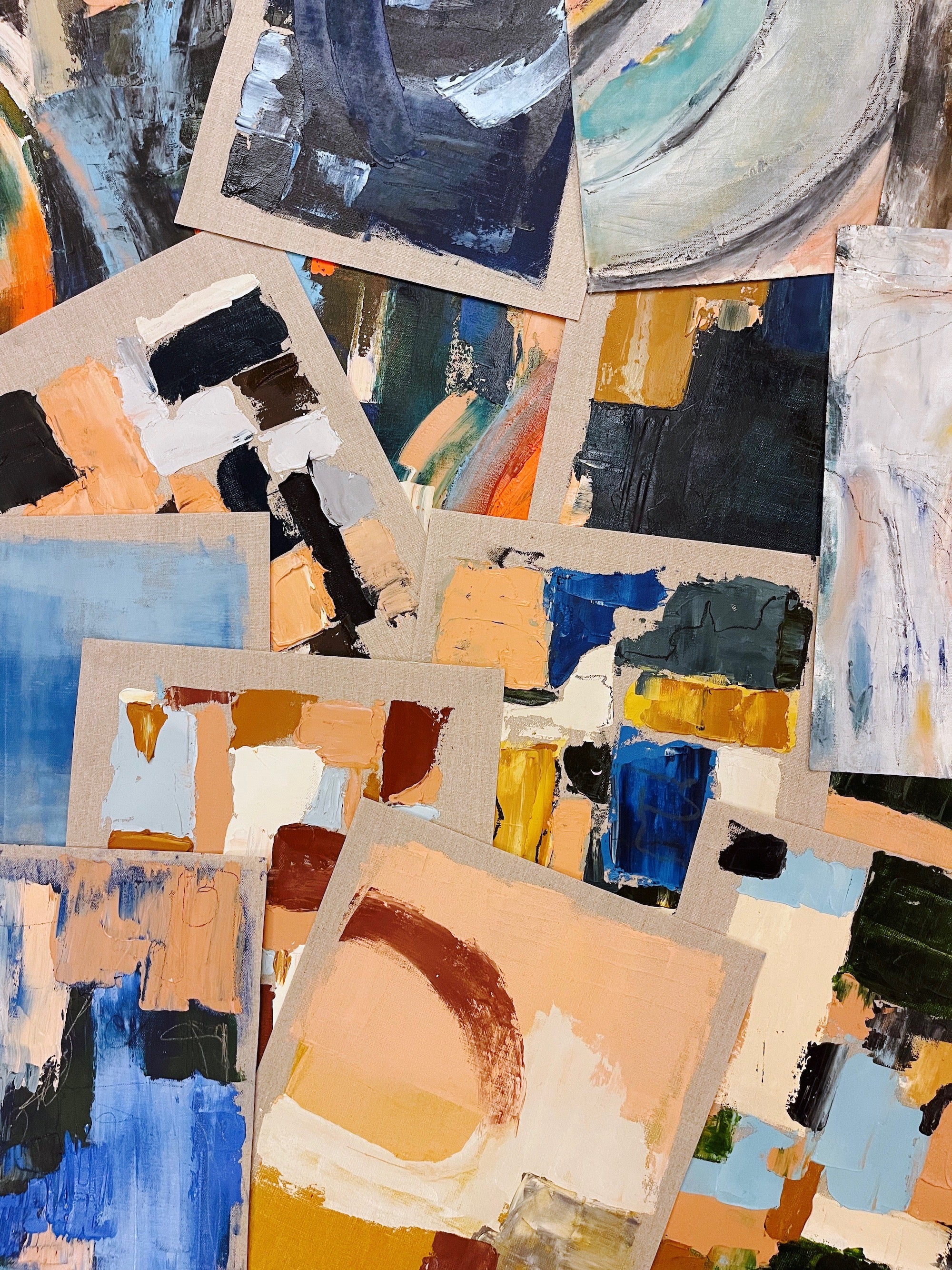 Welcome, friends! I'm so excited to share my latest art collection, Ease, with you!
Ease was created, and inspired, during our summer break at the beach. A summer adventure to reset, reconnect and create new memories, new work, new dreams.

As an adult, I'm often dreaming of an escape to the beach. Chasing a sense of peace in the waves, the sand, the return to natural light. The expanse of water reaching to the horizon line, without fail meeting in beautiful symmetry - always a grounding and optimistic visual reference for me.

I find beach living to be at once, both luxurious and simple. The luxuries of nature, of the natural rhythms of the sun, the joyful peace found in beach people. Simple in that it's a break from routine, from overwhelming choice, from the overstimulation of daily city life.
Earlier mornings inspire rising with the sun to journal, write and sit in silence. An easy walk with the dog, before shifting into studio time. Painting, doodling, dreaming, often outside, coffee nearby, on repeat until my daughter persuades me it is time to rest, to play, to explore.
In the simplified routine of less choices and less-to-dos, I find a freedom in my being. An ease and softening of rules and expectations, created by me in some odd way of life I've managed to build back in Dallas.  
At the beach, time suspends and intermingles. Each day full of dreaming, planning, playing, and adventuring. 
I find inspiration and beauty - everywhere. Most especially in nature, color, texture, and humanity. The abundance of which is so overwhelming at times, it's all I can do to create. To paint, to write, to attempt, however meagerly, to capture a small fragment of this peaceful and organic beauty, found by the sea, to return to again and again.
I can't wait to hear what you find in this collection. Which piece speaks to you? What story does it tell? What does it stir and shake loose in your routine, inspiring you to create space and ease in your own day? 
See (and shop) the entire collection, here.