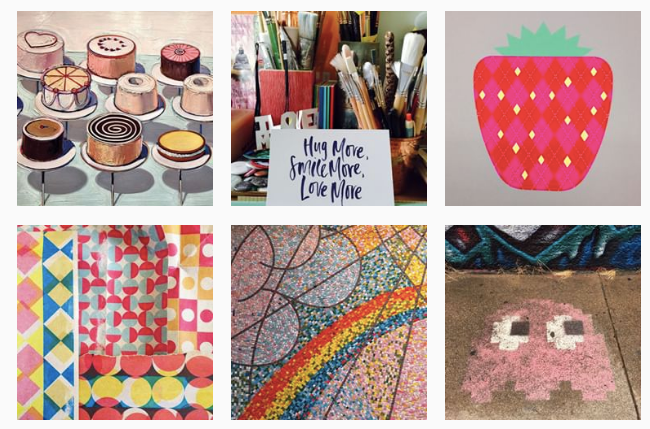 Instagram. Our most + least favorite app on our phone. Yes. Sometimes at the same time. Noticing how a harmless little scroll has the power to either give energy, or take energy, I've been ruthlessly editing the accounts I follow. To stay in my feed, accounts MUST check these three boxes_
+be inspiring through imagery, words or cause. I follow a wide array of topics, to match my interests - food, design, art, interiors, spiritual, fashion, friends. I want to end my scrolling sessions inspired, at peace and ready to dig back into daily life with a fresh eye.
+be positive and optimistic. For me, I keep my scroll VERY curated to be happy, sunshine, rainbows, pretty images, words + thoughts. I can always go to Twitter, online news,my Facebook neighborhood page if I need an extra dose of negative banter and bullshit.
+ motivates me to be my best self. For me, this means accounts that are authentic, attainable, not too pretentious. Nothing that invites my inner critic to start jabbing away, I hear enough from her already.
Today, I'm sharing some of my favorite art focused Instagram accounts that check the boxes above, and inspire me daily in my creative journey.
ARTISTS + CREATORS
Aleishall Girard Maxon - the talented granddaughter of design great, Alexander Girard. I love this playful, colorful, well-curated feed. Most especially the styled hands - shown above.
Rachel Castle - Australian artist with a whimsical approach to design + color, always an optimistic bright spot in my scroll.
Kelly Colchin - This Austin-based artists feed is soothing, inspiring and full of love - just like her work.
Samantha Dion Baker - Illustrator and designer behind the Draw Your Day collection, her daily posts inspire me to fit in my journal time regularly as well.
Clare Nicolson - London based designer + stylist, I love her simplistically stylized feed.
Lindsay Stripling - This SF based artist and illustrator inspires me to continuously improve my watercolor technique through her own amazing designs + color use.
Ashley Mary - Minneapolis based artist, her feed is full of happy colors, playful abstract patterns and always makes me smile.
Curious Dog Sees - A pastel-loving photography feed featuring the softest shades of London. Swoon.
MUSEUMS + CURATORS
The Sketchbook Project - On my to-do list for 2019, this community sourced global sketchbook project brings together artists and non-artists alike for a bit of daily sketching.
Tate - A favorite of mine whenever I get the chance to visit London, I love the art history, the inspiration and the peek inside the galleries you get from this feed.
Cooper Hewitt - the Smithsonian's design museum never disappoints - either in person, or on their social channels.
Color Factory - this feed, like the pop up museum in Soho, is a color-lovers dream.
Accidentally Wes Anderson - a community submitted account, inspired by the visual genius of Wes Anderson. Follow this one for a color + composition love fest.
Artsy - making art accessible and available through their feed + website, I love to discover new-to-me artists on this platform.
SHOPS + SUPPLIES
Case for Making - our hand's down favorite paint shop, this SF based gem gives sneak peeks into their studio and process on their Insta feed.
Oil + Cotton - one of our favorite local art shops, we love following their feed to see what new arrivals or future workshops are calling our name.
Liquitex - run by one of our go-to brands for acrylics, we love the tutorials and inspiration we find in this feed.
Letter Sparrow - beautiful, handmade small batch watercolors, we love the saturated, earthy colors iconic to this account.
CW Pencil Enterprise - pencil nerds unite. This site will make you smile, and also make you a dent in your wallet if you're not careful.

Any of your faves we've missed? Let us know in the comments below, or drop us a note @ info@thecolorkind.com.