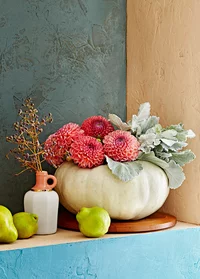 Fall is here!!
I don't know about you, but I'm pumped to enjoy all things FALL. The chill has finally hit TX this week, and I'm welcoming back all my cozy sweaters for my painting days at home. 
One of my favorite things about fall is the quality time I get to spend with my daughter as we cozy up at home. 
I try to make sure our home is always full of creative invitations so that she (and I) always feel inspired to make. Collected bits from our walks - leaves + acorns, all the ingredients needed to bake a simple cake or cookies and the space in our days to just create and slow down. 
Today I've put together 6 ideas for Fall Making to keep the whole family entertained. I hope you love these ideas as much as I do!!
Printing Potatoes 
Who doesn't love a good potato? 
They're amazing mashed, fried, baked, turned into chip form, but have you ever covered a potato in paint and incorporated it into your creative practice??
Most people haven't and that's totally okay, but I have to say… you're missing out!
There are so many ways to use potatoes for block printing and make it look awesome.
Here's a few pics for inspiration_



Making Pumpkin Vases 
We can all give a big thank you to Pinterest for coming up with the DIY Pumpkin Vase.
A perfect solution for your seasonal outdoor decor needs or even to be the centerpiece of your family's Thanksgiving meal.
Here are a few inspiration pics to get your creative juices flowing_
Here's how you make them (with a huge shoutout to ProFlower Blog for making the instructions so simple):
Supplies:
Small pumpkin

Metal spoon

Knife

Small plastic container

Flowers
Instructions:
Cut open pumpkin by carving a circle around the stem. Be sure the opening is big enough for your plastic container to fit inside. Scoop out the insides and pat dry, if necessary. Got extra time? Separate the seeds and roast for a delicious salty snack.

Cut the plastic container to size and place inside. An old yogurt container works well for this.

Add seasonal flowers and water. Now wasn't that easy. 
Pro-tip: You can customize your pumpkin vase to match your style and personality through the color and plant choices you make.
Painting Leaves
This is one that Sofia and I visit every year. We love to adventure and collect our favorite leaves, different shapes, colors, whatever we find. 

Then we set up a painting station and get to work!
All you need are basic art supplies such as a few paintbrushes and your favorite acrylic or gouache paints.
Check out these lovely leaves for some inspiration_

Slow Cooker Pumpkin Pie Oatmeal
This recipe is sure to bring the smell and taste of fall to your kitchen, stat. 
I discovered this yummy recipe on Pinterest and just had to share it with you!

Now for the recipe, courtesy of Amy in the Kitchen.
INGREDIENTS
2 cups steel cut oats

7 cups water

1 can (15 oz.) pumpkin puree ((ORGANIC taste much better))

½ tsp salt

1 T pumpkin pie spice or 1 T cinnamon

1 T vanilla extract

Optional add-ins ((brown sugar, granulated sugar, maple syrup, chopped pecans, raisins, chopped dates))
INSTRUCTIONS
Combine steel cut oats, water, pumpkin puree and salt in a slow cooker and stir until it's fully combined and there are no lumps of pumpkin. Cook on the WARM setting for 7-8 hours.

Add the pumpkin pie spice and vanilla extract and stir the mixture.

Turn the slow cooker to the LOW setting, to allow the oatmeal to thicken. Let the oatmeal continue to cook an additional 15-30 minutes or until it is your desired thickness.

Stir once more and then flavor individual bowls with add-ins and sweetener of choice.

Thanksgiving Margarita
Okay. And who knew that a Thanksgiving Margarita exists? (another perfect Pinterest find)!
I'm eyeing this my next backyard + fire pit cocktail. 
Here's how to make it (shoutout to Aspiring Winos for the amazingly delicious recipe):
What You Need
2 oz 100% Apple Cider

2 oz Pear Juice

1½ oz Tequila Gold

1 oz Grand Marnier

Margarita salt for the glass rim

Simple Syrup

Ice

Cinnamon sticks for decoration
Instructions
Dip the rim of your glass in simple syrup and place upside down on Margarita salt. Then, set the glass aside.

Next, fill 3/4 of your glass with ice.

Pour liquid ingredients into a shaker filled with ice and shake vigorously for about 30 seconds.

Pour into your prepared glass. Add a cinnamon stick for garnish.
I hope these fun ideas for fall making have inspired you to get creative and have a lot of fun this season!

Tag us @thecolorkind on Instagram to share your creations with us.
Cheers to fall y'all,
Jill Xx