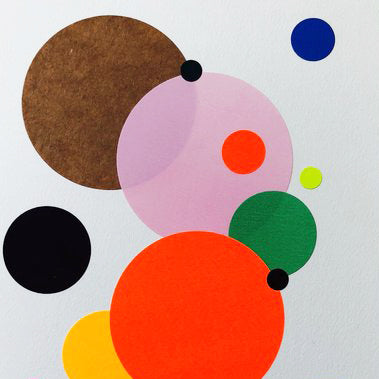 Color is something we love here at The Color Kind.  I know.  A shocker, right?  For us, it's a way we find creativity in the everyday.  Always on the hunt for inspirational color combos that will inspire our art, our work, our homes, our style.  
Our Color Crush feature will be a place to explore interesting color combinations.  Sometimes we'll dive deeper into a particular hue, and learn how to master monochrome.  We'll share inspiration and show some ideas on how to use this combo in your life.  Conversations around color tend to be emotional, and deeply personal.  Stirring rich commentary and hard-wired memories around that when + where a particular hue entered your life.  
First up?  A long-time favorite combo of mine - Blush + Orange.  This joyful combo always brings a smile to my face.  Something about the softness + femininity of the pink, against the vibrant saturation of the orange gets me every time.  The pink reminds me of my first phone in my bedroom, of my childhood bike and of my favorite summer drink.  All happy, happy thoughts.  The orange, so unexpectedly jarring against the blush - keeps the combo sophisticated and appropriate for those of us over the age of 10.  
I love it in home decor, art, furniture.  
In table scapes, and party decor - it's always happy welcoming to see this dynamic duo.  At once soft + feminine, yet balanced in fun and unexpectedness, it's a party starter for sure.  
If you're looking to add touches of this to your home or wardrobe, some of my favorite blush finds are this tray, this beautiful candle or this surprisingly wearable jacket.  
For a pop of the orange, we love this bright but beautiful sweater, buy this paint and sling it on a big (or small canvas) to shock your walls or splurge and pick up one of these pillows for instant happy.
What's your favorite way to pair this combo?  Let us know in the comments!